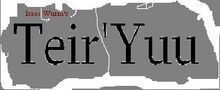 Welcome to the Teir'Yuu wikia, A Science-Fiction Wikia!
Hello, you may be wondering, "What is Teir'Yuu?". Well, it is a Sci-Fi novel that I am working on, with an expected release sometime in late 2010.  I will be adding new articles soon and I wouldn't mind if any of you would support me in this Wiki! Not you Jarrod...
Fetured Article
Solar System is the part in space where Humans originated.
News
The first six chapters of Teir'Yuu have been released!
OPENING FILE: FILE SETTINGS - LOST: REQUESTING CONFIRMATION
ALL SYSTEMS LOST - REBOOTING FILES - UPLOADING . . .

FAIL REBOOTING FILES TO BACK-UP FILES:
-"US ARMY/U.S AIR FORCE"- Firearms/"Heavy" Firearms:
M397 Assault Rifle System
M406 S&M SEM Defense Missile Launcher System
M70 Pump-Action Shotgun System

--</COMBAT CLASS/>--
V16 Combat Rifle Weapon System
V13 Combat Rifle Weapon System
V11 Combat Rifle Weapon System
V9 Combat Knife "Chrome" Weapon System
V5 U.S Army Combat Armor Uniform
V7 U.S Army Combat Helmet

--"AMMO/GRENADES"--
H336 H.E.C.K. Missile System

UNIDENTIFIED CODE</MUR'I/>NAMES - SYSTEM HACKED - JUMPING CODES TO BACK-UP FILES:
"Mike Foxtrot" North
"Mike Foxtrot" East
"Mike Foxtrot" Summer
"Mike Foxtrot" Fall
END OF FILE - DELETE DATA AFTER READING